Uploading your Bar Exam File
Once you have exited the exam, if you have an internet connection, Examplify will auto-upload your answer file(s).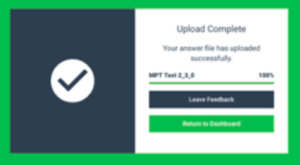 If you do not have an internet connection at this time, then Examplify will inform you that the exam is complete. Click 'Return to Dashboard'. Once you arrive at a location with an Internet connection, launch Examplify and the answer files will automatically upload, if not, click 'Retry Upload'.
 After clicking the 'Retry Upload' button, and you will get the successfully uploaded green check mark. You will need to repeat this process for each file.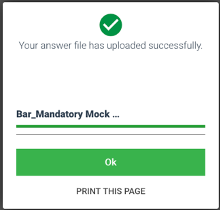 Note: Your Answer Files must be uploaded by the deadline specified by your jurisdiction. You can check the deadline by searching for your jurisdiction information here. 
If you are unable to upload your answer files via Examplify, you will need to manually upload your answer files. 
If NEEDED: How to Manually Upload Your Answer File: 
Go to www.examsoft.com/

XX

bar and click "Login" at the top of the screen.
Select the History tab
Click the Manual Exam Upload button and follow the instructions provided
Click here for detailed instructions for MAC or Windows users.
Confirming the Upload of Your Answer Files:
Once completed you will receive the green confirmation screen. If you saw the green confirmation screen while exiting Examplify, your file has been uploaded. You can also confirm by checking for the 'Exam Uploaded' indication below the exam name. Additional confirmations such as emails, texts, and the exam history may take up to 30 minutes to be received.  For more information, visit our Support Portal.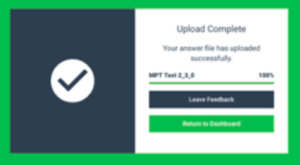 Troubleshooting: