Uploading your Bar Exam File
Once you have exited the exam, if you have an internet connection, Examplify will auto-upload your answer file(s). If you do not have an internet connection at this time, then Examplify will inform you that the upload has failed and you can either try to upload again or exit and upload at a later time.  If you need to upload at a later time, click exit and this will route you back to the home screen.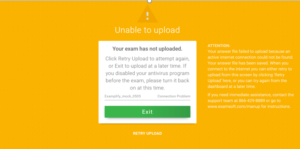 *Your Answer Files must be uploaded by the deadline specified by your jurisdiction.*
1. How to Upload Your Answer Files After the Exam
Once you arrive at your home, hotel or other location with Internet connectivity, turn on the computer.
Connect to the Internet and click on the 'Examplify' icon, if it not already open.
Click 'Retry Upload' to upload your exam. After clicking "Retry Upload", if you have a good internet connection, you will get the green successfully uploaded screen.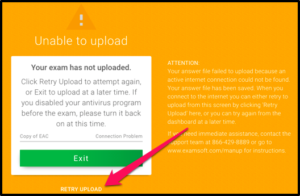 If you clicked "Exit" earlier on the orange screen stating unable to upload screen, you will be returned to the Examplify Home Screen seen below.  Once you are connected to a good internet connection, click on the green "Retry Upload" button, and you will get the green successfully uploaded screen.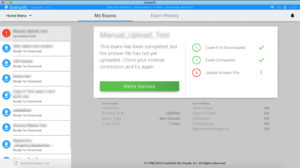 If you are unable to upload your answer files via Examplify, you will need to manually upload your answer files.  Refer to step #3.
2. Confirming the Upload of Your Answer Files
Once completed you will receive the green Congratulations! confirmation screen. If you saw the green confirmation screen while exiting Examplify, your file has been uploaded. Additional confirmations such as emails, texts, and the exam history may take up to 15 minutes to be received.  For more information, visit our Support Portal.


3. If NEEDED: How to Manually Upload Your Answer File
Log in to the custom home page for your institution
Go to www.examsoft.com and click "User Login"at the top of the screen.
Select your Jurisdiction and click on the link populated

Login with your credentials
Select the History tab
Click the Manual Exam Upload button and follow the instructions provided
Click here for detailed instructions for MAC or Windows users.
4. Troubleshooting:
Ensure your Internet connection is strong.
Double check your email account (including spam folder) that you used to register for Examplify.
​Enable your email account to receive mail from support@examsoft.com.